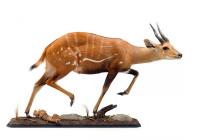 The full service: from the hunt to the trophy room
We deliver the trophies to the taxidermist of your choice but over the years and on request of our clients, we have developed a full service from the organisation of the hunt, field care of trophies, export and import, world class taxidermists, to the delivery of your trophy in your trophy room. This service is also available for you at your request. Further more, we assist in the organisation of your trip, collect you personally at the airport, assist with all administration, organize the export of your trophies and work with specialized shipping and clearing agents. Your trophies will be catered for by world class taxidermists who have trained our staff in the field, have experience with this particular game and deliver price winning mounts. In the Gallery under section "Trophy rooms" we show a number of pictures of animals taken in our area, mounted and delivered by our services at the hunters trophy room. This way we assure the lifelong preservation of an exceptional hunt and trophy.
References can be given on request.