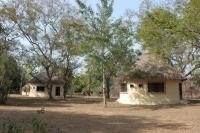 The camp has stone constructions called "boukarou". They are cool, quiet and well integrated in the environment. Each hunter has an individual boukarou with single or double bed, bottled drinking water, shower, toilet and sink.
Lights, refrigerators and freezers are solar powered. A generator (220-240V) is available. Daily laundry services are provided. The camp is also equipped with a satellite telephone.
There are four 4x4 vehicles available in the camp: two pick-up trucks Nissan fully equipped for hunting and two Nissan Patrols long wheel base. All cars have a "tuned" suspension with adapted shock absorbers and coil springs. All Patrol's have air conditioning.
At two hours' drive from the camp is the medical facility of Fignole run by a French catholic mission.
Sundowners are served around a campfire on the riverbank with a view of hippos and other game.